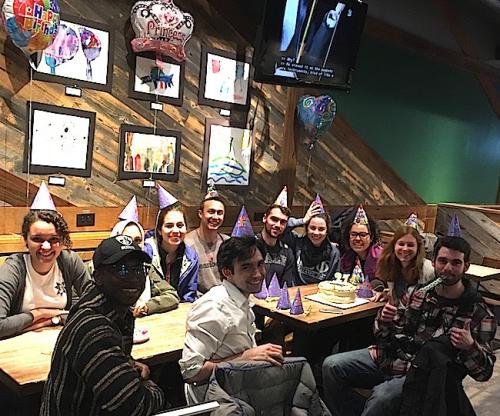 TD Notes and News – Week of 4-10
Head of College's Pieces
Dear Red Lions,
Just one week to go until we host our spring Chubb event with Dr. Hawa Abdi and Dr. Deqo Mohamed on 4/18!  Last call for signing up for the lottery for the Chubb dinner in the TD Dining Hall.  If you have not had a chance to sign-up, please go to this link.  We will aim to do the drawing by Wednesday 4/12. 
Speaking of the TD Dining Hall, we are experiencing a problem with our coffee mugs going missing.  Unfortunately, this is a very expensive problem for the college to use part of the budget to replace our ceramic mugs.  We ask that you return your used mugs to the DH and if you are taking a hot beverage, please use the paper cups that our dining hall staff kindly provides.
This week's "photo of the week" is aptly titled "Happy Birthday Dean" and captures the TD froco team throwing our wonderful Dean Mahurin a surprise birthday celebration at Shake Shack!   Happy belated birthday!!!
 
Mott Woolley has organized an outing to Six Flags on Saturday April 22nd for their spring trip this year.  The bus will leave TD at 10am and return at 6pm.  The college is subsidizing this trip so students will need to only pay $10 for the entry fee.  Spots are limited and on first come first serve, so make sure to grab yours early!  You can sign up via Google Form, but your spot isn't confirmed until you sign a waiver and pay the fee at the HoC office.
Here are the important dates for this week:
Tuesday 4/11 4:30pm Tea with Mia Locks, co-curator of the  2017 Whitney Biennial (TD House)
This current show is the Whitney's 78th biennial since this series was created in 1932 by Gertrude Vanderbilt Whitney to showcase contemporary art in the United States.  This year's exhibition is the first Biennial to be presented in the Whitney's new building in Manhattan's Meatpacking district.  Mia Locks has worked in a number of New York museums and galleries including MoMA PS1.   New York Times art critic Roberta Smith has called this Biennial "a revelation". 
Saturday 4/15 3pm TeaD and Conversation: End of Year Bash with TD '18 (RH Common Room)
The last TD junior event—featuring dinner and conversation!  Catch your friends before we head out for the summer! Add the Facebook event and invite people here.  
Sunday 4/16 2:00pm "Vanessa's Senior Recital" (TD House) 
Come to a wonderful Sunday afternoon house concert with TD senior and violinist, Vanessa Ague.  She will be playing Bach, Franck, and Sarasate!  A light reception will follow the performance. For more information please go to her Facebook event page.
 
And we have a lot of great events coming up next week!  Here is a list of some of these events.  Please put these on your calendar!
Tuesday 4/18 4:30pm Chubb Lecture and 7:30pm Chubb Dinner with Dr. Hawa Abdi and Dr. Deqo Mohamed 
Friday 4/21 10pm-1am TD Formal (Anna Liffey's)
Saturday 4/22 Mott Woolley Six Flags Trip
Sunday 4/23 2pm Senior Recital for Kay Nakazawa (TD House)
Without further ado, here is a word from Dean Mahurin…
Áshe,
HoC Lui
******
 
"It was an odd friendship, but the oddnesses of friendships are a frequent guarantee of their lasting texture."
-Ford Maddox Ford
---
IMPORTANT DEADLINES
 
Apr. 21

F

Last day to convert from the Credit/D/Fail option to a letter grade in a course offered in the second half of the term. See Grades.

Apr. 28

F

Classes end, 5:30 p.m.; reading period begins.
Last day to withdraw from a full-term course or a course offered in the second half of the term. See Withdrawal from Courses and Grades. 

May 1

M

Applications for fall-term Leaves of Absence due. See Leave of Absence, Withdrawal, and Reinstatement.

May 4

TH

Reading period ends, 5 p.m.
Final examinations begin, 7 p.m.†
Deadline for all course assignments, other than term papers and term projects. This deadline can be extended only by a Temporary Incomplete authorized by the student's residential college dean.

May 10

W

Examinations end, 5:30 p.m.
Deadline for all term papers and term projects. This deadline can be extended only by a Temporary Incomplete authorized by the student's residential college dean.

May 11

TH

Residences close for underclassmen, 12 noon.
---
LEDA CAREER INSTITUTE
The LEDA Career Institute will bring together approximately 150 high-achieving, low-income students (including LEDA Scholars and their peers at partner schools) for a four-day, all-expense-paid workshop to provide career exploration, professional development, and support for pursuing internships and a job search.  
LEDA will be engaging a diverse range of corporate partners at the Career Institute and participants will subsequently be included in the LEDA Career Network, which will continue to offer additional resources and networking opportunities with employers throughout their college careers.
The event will take place during the second week of August at Brown University.  See attached flyer for more information.
---
CIPE
Office of Career Strategy:
Yale Career Fireside Chats-Serving on Boards
Tuesday, April 11, 4:30pm-5:30pm. Register here. 
Yale LGBT Career Program
Monday, April 10, 6:00pm-8:00pm, Burke Auditorium, Kroon Hall
This event is open to ALL students at Yale and includes a primer on LGBT workplace laws by legal expert David Salazar-Austin, Attorney, Jackson Lewis PC, a primer on affinity groups hosted by the Yale LGBTQ Affinity Group and the Yale Office of Diversity and Inclusion, and an LGBT Yale Alumni and Friends Leadership Panel moderated by F&ES Alumna Kris Morico, M.E.M. '98, Global Lead, Environment Programs, General Electric.  The program concludes with a catered networking reception.
For more details, click here.  RSVP TODAY
3-Minute Thesis Competition–Final Round
Thursday, April 13, 5:00pm-6:30pm, TAC N107 (300 Cedar Street, Medical Campus)
Cheer on Yale grad students and postdocs as they attempt to impress a panel of judges from Yale and beyond.  They will have 3 minutes and 1 slide to clearly and engagingly describe their research to a broad audience.  Judges include: Lynn Cooley, Dean of Graduate School of Arts and Sciences; John Kirby, Former Assistant Secretary of State for Public Affairs for the Obama administration; Eileen O'Connor, Yale Vice President for Communications; Angelika Hofmann, Yale Deputy Director of Corporate and Financial Relations for Science and International Initiatives.  This event is open to the Yale community, so be sure to bring your friends and colleagues.  Refreshments will be served. RSVP.
Roivant-Reimagining Biopharma: A Conversation with Vivek Ramaswamy YLS '13, CEO, Roivant Sciences
Thursday, April 20, 4:15pm-5:15pm, Yale School of Management, Evans Hall, Room 4400
Vivek Ramaswamy (YLS '13) is on a mission to rescue shelved drugs.  His company, Roivant Sciences, advances the clinical development of promising therapies that have been deprioritized. At the age of 31 he has already raised over a billion dollars, spearheading the largest biotech IPOs of the past two years.  Join us for a candid discussion with Vivek and other Yale alumni on the future of healthcare and the biopharmaceutical industry.
FELLOWSHIPS
 
Schwarzman Scholars Program
Thursday, April 13th at 4:00 PM @ 55 Hillhouse Avenue, Horchow Hall GM Room - Information Session w/ Director of Admissions Rob Garris, register here. 
Thursday, April 20th at 4:00 PM - Live Webinar, register here.
Tuesday, May 16th at 1:00 PM – Live Webinar, register here.
Inspired by the Rhodes Scholarship, Schwarzman Scholars is an international scholarship program designed to prepare future leaders for success in a world where China plays a key global role. The program will give young leaders from around the world the opportunity to develop their leadership skills through a fully-funded one-year Master's Degree at Tsinghua University in Beijing. No previous knowledge of Chinese is required. Add a Schwarzman Scholars session directly to your calendar.
Rhodes & Beyond: UK Postgraduate Fellowships Information Sessions
Friday, April 14th at 12:30 @ CIPE, 55 Whitney Avenue, 3rd Floor (Good Friday, but still happening!)
Monday, May 1st at 12:30 @ CIPE, 55 Whitney Avenue, 3rd Floor
There are UK fellowship options post-graduation in almost any subject, scientific research, and more—for US citizens and international students alike. Get the inside scoop from Yale's UK fellowships adviser. Deadlines begin in August, so now is the time to start the process. You must attend a Rhodes & Beyond Information Session before you can meet with Yale's UK fellowships adviser for a one-on-one appointment. Add a Rhodes & Beyond session directly to your calendar.
The IRB Application Process
Monday, April 17th at 12:30 @ CIPE, 55 Whitney Avenue, 3rd Floor – last chance this semester
In this information session, a Regulatory Analyst from the Human Subjects Committee will guide you through the IRB application process. There will be time for Q and A in this session, so feel free to come with any questions specific to your project and application. Add the final IRB Application Process session of the semester directly to your calendar.
Fulbright Information Sessions
Tuesday, April 18th at 12:30 PM @ CIPE, 55 Whitney Avenue, 3rd Floor
Monday, April 24th at 4:00 PM @ CIPE, 55 Whitney Avenue, 3rd Floor
Wednesday, May 3rd at 12:30 PM @ CIPE, 55 Whitney Avenue, 3rd Floor
Fulbright Grants offer many terrific postgraduate opportunities—from scientific research to the practice of an art to the teaching of English in more than 160 countries. Start by getting the inside scoop from Yale College's Fulbright Program Advisers. Deadlines begin in August, so now is the time to start the process. Add a Fulbright session directly to your calendar.
Writing for National Fellowships
Friday, April 21st at 12:30 PM @ CTL, 301 York Street, Room M104 A – last chance this semester
Thinking of applying for national fellowships like the Fulbright, Marshall, Mitchell, Rhodes, Schwarzman, Beinecke, Goldwater, or Truman? Get a leg up on your application essays with insights and advice with experts from the Center for Teaching and Learning. Add a Writing for National Fellowships session directly to your calendar.
Visit the fellowships calendar to easily copy any Yale Fellowships event to your own calendar, and for many additional opportunities, including national and international fellowships with direct application processes, wherein applicants apply directly for the opportunity, and not through Yale. The fellowships featured above all require applicants to apply through the Yale Fellowship Programs office—either for campus nomination or institutional review.
---
Job opportunity at Summer Science Research Institute:
We are currently seeking a qualified candidate to coordinate the Summer Science Research Institute at Yale, an exciting science outreach internship program for local public school students. Our team is in the process of finalizing admissions decisions for the 2017 summer program, and we're now looking for a dynamic, organized undergraduate or graduate candidate who is excited about the program's mission - even if you're not involved in science at Yale!
The Yale Summer Science Research Institute (SSRI) connects enthusiastic high school students from the New Haven area with scientific research labs at Yale.  We aim to provide high-quality research experiences to New Haven students to excite them about scientific investigation, enable them to explore new scientific fields, and to increase their college preparedness. In doing so, we hope to foster long-term relationships between Yale laboratories and high school students. Students come to campus for a 6-week research internship supplemented with weekly workshops, lunches with student mentors, and a day-long research symposium at the end of the program.  
The Coordinator will be in charge of program administrative responsibilities and will act as the point of contact and facilitator of program events during the 6-week period. The working hours are part-time from May until August, with flexibility in fulfilling the working hour requirements outside of when the 6-week programming is in session.
More details about the position can be found at the following link:
onhsa.yale.edu/SSRIcoordinator
For more information about the program, please visit http://ssri.sites.yale.edu/ or email brendan.ternus@yale.edu.